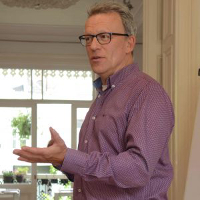 Joost Levy is a Senior Consultant. He works on cultural change programmes in all kinds of organisations, profit and not for profit.
Joost is an international certified teacher and supervisor in transactional analysis (TSTA).
He is first line psychologist and National registered health psychologist. He delivers therapy to individual clients.
He has a Masters degree in pedagogics – educational innovation and change processes and is educated in guiding the study of group dynamics in large scale research environments.
He leads international conferences on developing organisational research thinking for professionals.
---
---